Description
Price: $60.00
(as of Jul 19,2022 04:45:13 UTC – Details)
Product Description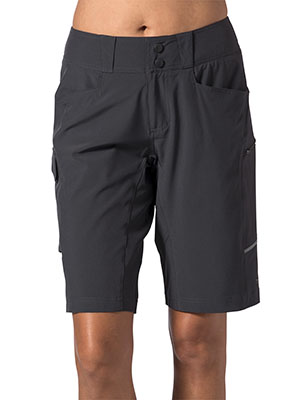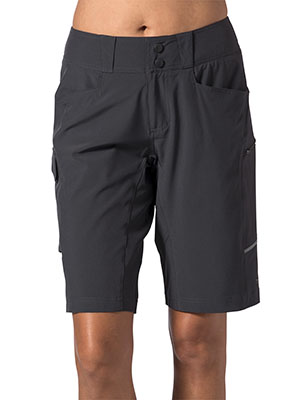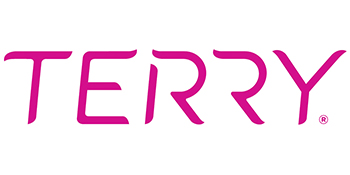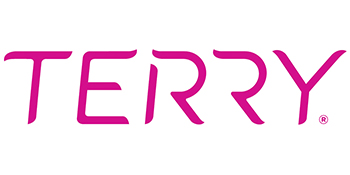 The Original Women's Bicycling Company – Thanks for riding with us!
Because we believe in the transformational power of cycling, we're not just about selling products but helping you to be the best cyclist you're capable of being. We offer support for all kinds of cycling and are driven to one mission:
Get more women riding bicycles—comfortably, safely and beautifully.
Metro Short Lite (Regular) with Padded Universal Liner (XS-XXL)
Our goal with the Metro Lite was to lighten up the fabric while still maintaining durability, stretch and performance. The result has made it one of our best-selling bottoms, and they're the go-to for staff at Terry.
The Metro Short (Regular) fits like a city short, but with enough flexibility and features for serious riding. Having a detachable padded liner allows you the freedom of wearing the Metro for biking, hiking, travel or for work.
Outer: 2-way stretch woven (90% polyester/10% spandex) with water-resistant finish; Liner: 92% nylon/8% spandex stretch gussets at sides of waist aid in on-bike position full-length crotch gusset for better seam placement through key zone 11.5 inch inseam
Pocket Details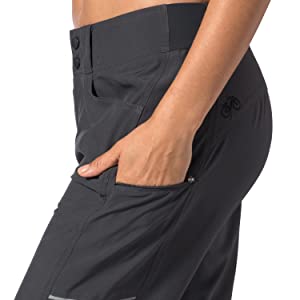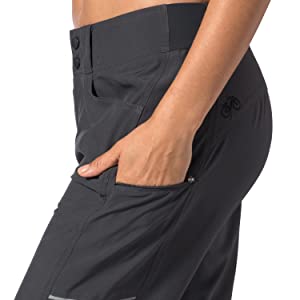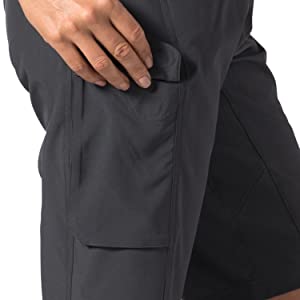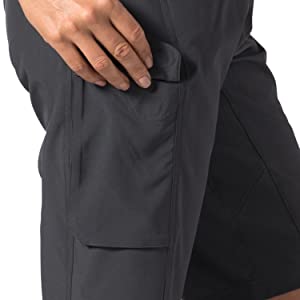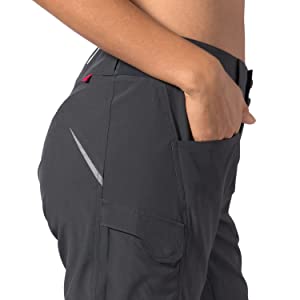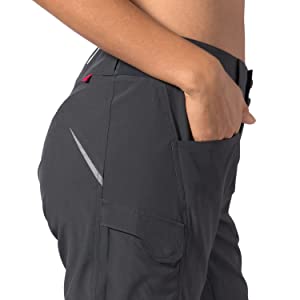 Zippered Leg Pocket
Cargo Pocket with Magnetic Closure
2 Front Hand Pockets
Other Details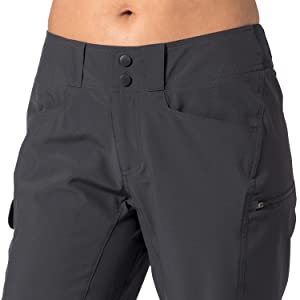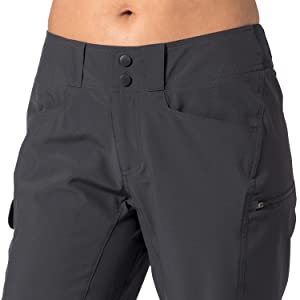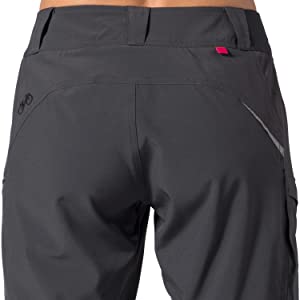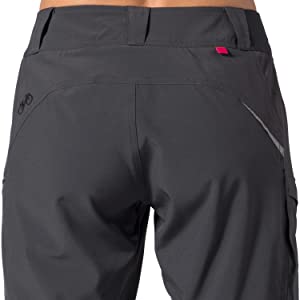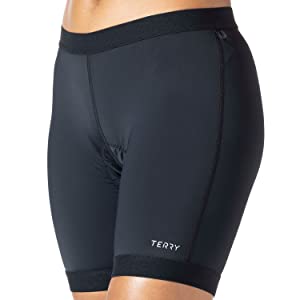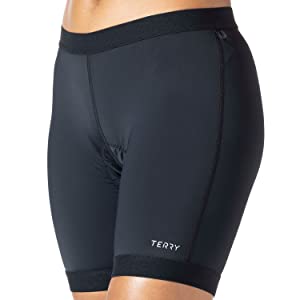 Snap/Zipper Front Closure
Curved Back Yoke
Removable Universal Liner with Urban Chamois
Length
11.5 Inch 11.5 Inch 7 Inch 16.5 Inch 15.5 Inch center front length
Universal Liner with Urban Chamois
✓
✓
Comes with new Universal 5 Liner
✓
✓
Pockets
2 front hand pockets; 1 zippered leg pocket; 1 cargo pocket 2 front hand pockets; 1 zippered leg pocket; 1 cargo pocket 2 front hand pockets; 1 zip leg pocket 2 front hand pockets; 1 zip leg pocket 2 front hand pockets; 1 zippered lower front pocket; 1 cargo pocket
Defining Features
Tapered but not tight fit Relaxed fit New shorter length Below the knee length; Tapered leg 2-Way vertical zip and front and rear hem slits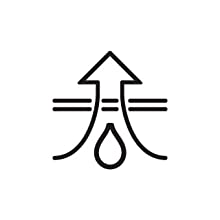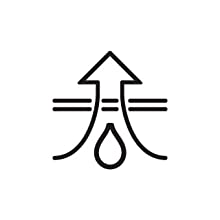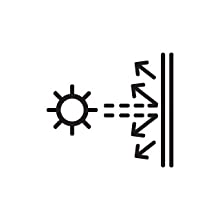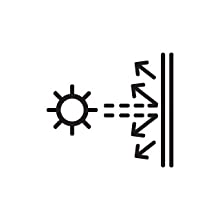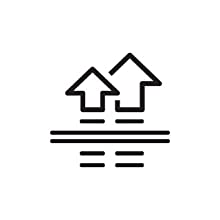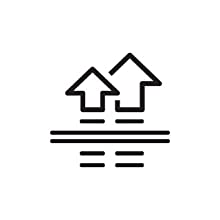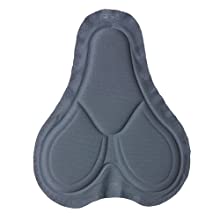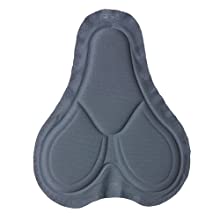 Moisture Wicking
Transports moisture away from skin so you feel drier and cooler.
Reflective
Helps you be more visible to traffic in low light conditions.
Breathable
Allows vapor to escape, so you feel drier and more comfortable.
Urban Chamois
Compact size, seamless chamois with 4-way stretch Elastic Interface Technology and multi-level foam padding. Shorter front-to-back and less bulky for riding in a more upright commuter position. Light microfiber fabric and soft wing construction reduce bulk at inner thigh to avoid chafing. Made in Italy.
Product Dimensions ‏ : ‎ 14 x 13 x 2 inches; 10.4 Ounces
Item model number ‏ : ‎ 610189A1F21
Department ‏ : ‎ Womens
Date First Available ‏ : ‎ February 15, 2019
Manufacturer ‏ : ‎ Terry
ASIN ‏ : ‎ B07NS55PCP
Zipper closure
Machine Wash
DESIGN: Designed with lighter fabric while still maintaining durability, stretch and performance. Detachable liner allows you the beauty of wearing the Metro Lite for biking (road or mountain), for hiking, for travel or for work. Pair it up with your favorite liner or wear it solo for any activity. Made of a lightweight, stretch woven fabric that allows for a fairly tapered fit without being tight (also available in a relaxed fit version)
FABRIC: 85% nylon/15% spandex
FEATURES: Sophisticated construction elements include: stretch gussets at sides of waist to give you added flexibility; a full-length crotch gusset for better on-bike utility; flatteringly curved back panel with embroidered detail. The pockets are substantial: 2 front hand pockets; 1 zip front leg pocket; 1 bellowed cargo pocket with magnetic closure (easily fits a cell phone or 2). 11.5-inch inseam (lower thigh)
URBAN CHAMOIS: Compact size, seamless chamois with 4-way stretch Elastic Interface Technology and multi-level foam padding. Shorter front-to-back and less bulky for riding in a more upright commuter position. Light microfiber fabric and soft wing construction reduce bulk at inner thigh to avoid chafing. Made in Italy.
100% SATISFACTION GUARANTEED: Ride it. Wear it. Love it or Return it. We're proud of the products we sell and we back them unconditionally. If for any reason you're not completely satisfied with your Terry purchase, please do not hesitate to contact us