Carbon Fiber Bicycle: Carbon road bikes are frequently derided as being prohibitively expensive, insufficiently strong, and likely to have been produced in an Asian sweatshop. Let's take a closer look at these difficulties.
We could go on and on about how much they cost. A lot of people think that it's a little too high, while others accept it for what it is. Without a doubt, the technology needed to convert carbon is expensive and generally acquired from the aeronautics industry. The graphite used in carbon frames and other items is produced by only a few firms throughout the world because of this. It's also worth noting that when a carbon frame's performance increases, so does the requirement for additional technological processes and quality-checking methods. All of this adds up to the bike's final price. For the most part, the price you pay for a carbon bicycle covers the talent of the people who constructed it and the knowledge that it was intended to safely offer the highest performance, using the best materials possible. This is why we are adamant that you should only buy a bike from a well-known manufacturer. When you're cruising downhill at 80 kph on your budget bike, the last thing you want is for the frame to crack!
When it comes to safety, you want to know as much as possible about a bicycle, and you want to be certain that it has been put through rigorous testing before being allowed for use.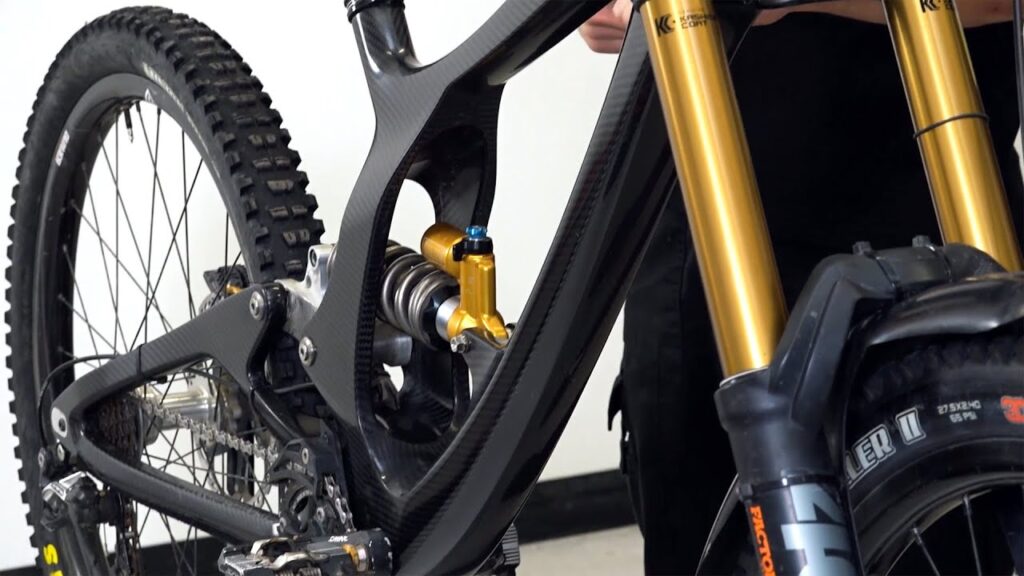 Welcome to Up North. Why would you want a handmade carbon fiber bicycle built Up North, in Maine? For starters, you have to understand Up North. These frames are built as far north in Maine as you can go without making friends with the Canadian border patrol. And to get to the town where they're made, Van Buren, a potato's throw from the Canada border, you pass a lot of barns.
And you notice three things about these barns: They're big. They're old. And they're standing.
You have to understand the people Up North who build these kinds of things. These barns were built a hundred or so years ago, by people who wanted to pass them onto their grandchildren. People who didn't want to have to go out and build another barn in a few years.
Frugal people built these barns. The kind of people who wasted nothing. The kind of people who found 151 ways to serve a potato. So these barns are big, but you have to understand that they are not one inch larger than they needed to be.
When you venture way Up North to the very last town in America, you will find people who know exactly what to do with carbon fibers.
You will meet the people of Aegis
These are the legendary people who perfected carbon fiber bicycle making. People who've been improving the process for 20 years. People like John Desjardin, who runs the workshop where they are made. John's been building Aegis bicycles for sixteen years. Says his secret is simple—dependable bikes are built by dependable people.
How dependable?
"Well," says John, "I wouldn't trade any one of my people for five other people." These are people who build bicycles to endure.
Why not use aluminum or titanium or some other high-tech metal? Because carbon is lighter, stronger, stiffer and more durable. It makes bicycles that absorb road shocks, and flex and works with you to translate your sweat into speed more efficiently than any other material.
It makes bicycles that feel alive
Now, they could make them lighter. But then they would break. The people of Aegis build bike frames, not one ounce heavier than they need to be. And not one ounce lighter. Because they know what breaks a bike. Because these people break lots of them. Because they put these bike frames through a torture test on a machine that stretches, shakes and flexes each one hundred of times. When you put your hand on a frame in the torture machine, you can feel it flex like the muscles of a live animal.
Yes, like muscles, frames do fail.
But given a choice between a frame failing under you or under the watchful eyes of John, you'll pick him every time. So will John.
You have to understand that the people of Maine have been building everything from ships to barns to bicycles for a long time—to endure oceans and blizzards and ornery animals and heat and humidity and seasons of cold and rain.
They build things to endure
To endure thousands of miles of soft shoulders, and potholes, and trucks, and dogs, and buses, and rainstorms, and flats, and manholes, and mud holes, and culverts, and races and roads.
They build bicycles to endure
They build bicycles that corner and climb and pull and roll with a comfort and strength that makes them the joy of racers and the love of weekend riders.
They build bicycles for people who understand about handmade carbon fiber bicycle.
They build bicycles for people who dream about handmade carbon fiber bicycle.
Best carbon bicycle
1– Savadeck Bike
Carbon fiber has the property of being "soft on the outside and stiff on the inside." It has a lower mass than aluminum, yet it has a higher strength than steel.
It also has corrosion resistance and a high modulus of elasticity.
It is a vital resource for national defense, military, and civilian applications.
It possesses both the inherent properties of carbon materials and the soft processability of textile fibers. It's a novel reinforcing fiber generation.
What makes it unique
In Tianjin, SAVADECK was founded in 2004. In 2014, SAVADECK overtook the entire Chinese bicycle market with its innovative carbon fiber goods, establishing itself as the industry's biggest dark horse. They are also shipped to nations such as Germany, Belgium, Holland, Russia, Australia, and others.
Premium quality
SAVADECK employs world-class bicycle craftsmen, follows the craftsman attitude of "perseverance, extremes, excellence, excellence," and is dedicated to making world-class high-quality industrial artworks.
The things we like about it
TORAY T800 Carbon Fiber Frame, Fork, and Seat Post – At 9.8kg (21.6lb), it's a lightweight and stiff carbon road bike with a touch more compliance.
SHIMANO SORA 2*9 Speeds with Shifter Lever, Front Derailleur, and Rear Derailleur – It allows you to start and operate your ride effectively, with smooth shifting and durability.
The stays, seat post, and seat tube were designed in the Wind Tunnel to be aerodynamically shaped; entirely internal cable routing guarantees clean airflow throughout the bike; The tapered head tube improves rider handling by increasing torsion rigidity.
Continental Ultra Sport II (C304 SL) Wire 700x25C Tire with Oval Concepts 6061 Alloy 40MM Bearing Wheelset Pedals are provided for free. Complete road bike that is mostly constructed and excellent for cycling beginners and enthusiasts.
2- Savadeck Phantom 2.0
Bicycles and accessories from the factory, with factory direct prices and high-quality products.
SAVADECK Ready Ride bikes are handcrafted and delivered to you. The front wheel, seatpost, and pedals are all that is required. Yes, the brakes and derailleurs have been adjusted.
simply inflate the tires and head out on a ride.
What We Like About Savadeck Phantom
TORAY T800 Carbon Fiber Frame, Fork, Handlebar, Seatpost, and Wheelset – At 7.8kg (17.2lb), it's a lightweight and stiff carbon road bike with increased compliance.
SHIMANO Ultegra Group Set – SHIMANO Ultegra 8000 2*11 Speeds with Shifter lever, Front derailleur, Rear derailleur, V Brake, Crankset, and Freewheel – It allows you to start and operate your ride efficiently, with smooth shifting and long durability.
The stays, seat post, and seat tube were designed in the Wind Tunnel to be aerodynamically shaped; totally internal cable routing provides clean airflow throughout the bike; and the tapered head tube boosts torsion rigidity and improves handling.
Fi'zi:k Saddle, 800K Carbon Fiber 50MM Bearing Wheelset (78mm is one possibility, please specify) and Continental Ultra Sport II (C304 SL) Wire 700x25C Tire Pedals are provided for free.
Complete road bike that is mostly constructed and excellent for cycling beginners and enthusiasts.
3- Schwinn High Timber
Riders who wish to tackle a variety of terrain will love the Schwinn High Timber. For those challenging courses, the steel frame provides durability. Smoothly navigate any surface or gradient with 21-speed twist shifters and a rear derailleur.
Precision stopping power is provided by the front and rear alloy linear pull brakes. All terrain tires are mounted on alloy rims for lightweight strength. Furthermore, the High Timber's fast release seat post allows for simple height adjustments, allowing you to discover your ideal fit.
The High Timber, like all Schwinn bikes, comes with a limited lifetime warranty for as long as you possess it. Get out and ride with the High Timber, whether on the road or on the trails. Riding a Schwinn gives you a sense of liberation.
What We Like About Schwinn High Timber
Trails and neighborhood rides are made easier with this tough mountain bike.
The alloy crank ensures consistent gearing and requires less maintenance.
Quick gear changes on the trail with twist shifters and a rear derailleur.
For enhanced stability, all-terrain, wide knobby mountain tires are mounted on light and sturdy alloy wheels.
Easy height adjustment thanks to the quick release seat post.
4- Schwinn Phocus
With the adult 700c Phocus 1500 from Schwinn, you can fly down the road, hug tight curves, and try new cycling adventures. With a Schwinn aluminum fitness frame and Schwinn sport fork for a responsive ride, this sleek flat bar hybrid is light and nimble.
Trigger shifters and a 24-speed gearbox make shifting simple and seamless, so you can tackle that big hill with ease. On descents, mechanical disc brakes provide dependable stopping force and consistent speed management, while the alloy crank and 8-speed cassette provide appropriate gearing and require less maintenance on your part. Alloy high profile double wall rims are sturdy and durable, allowing you to ride for as long as you like while taking in your favorite sights.
This lightweight hybrid combines the elegant, fast riding characteristics of a drop bar road bike with the durability and dependability of a mountain bike. The Phocus 1500, like all Schwinn bikes, comes with a limited lifetime warranty for as long as you possess it. Take a Schwinn for a spin.
What We Like About Schwinn Phocus
Light and nimble flat bar hybrid with an aluminum fitness frame and sport suspension fork for a responsive ride; suits riders 64 to 74 inches tall.
Shifting is simple using trigger shifters, front and rear derailleurs, and a 24-speed drivetrain.
On descents, mechanical disc brakes provide crisp, reliable stopping force and consistent speed control.
High-profile alloy rims with twin walls are light and sturdy, providing enhanced stability.
The alloy crank and 8-speed cassette provide excellent gearing while requiring minimal maintenance.
5- Tommaso Forcella
The Tommaso Forcella is a road bike for beginners. It includes a 24-speed transmission, rim brakes, and 700c x 25mm tires. The frame is made of aluminum, and the fork is made of carbon. Although the tires are heavy, the bike is quite light overall. It comes in six sizes to accommodate a wide range of riders.
What We Like About Tommaso Forcella
DURABLE & RELIABLE: Durable Aluminum Compact Frame with HCT Carbon Fork for increased vibration dampening and weight savings, backed by our industry-leading Lifetime Frame & Fork Warranty. The Forcella's frame is drilled for a variety of racks and fenders, making it an ideal commuter bike.
SPEED AND POWERFUL PERFORMANCE: Shimano Claris 3×8 Groupset with Claris crankset (30/39/50T) and Claris cassette (12x25T). Perfect for a variety of terrain, from flats to hills, with a wide range of gears for riders of all levels in all situations.
Shimano Claris STI shifters offer smooth and consistent shifting in all riding circumstances. Tommaso bikes offer a degree of performance shifting and responsiveness that the competition can't match by keeping a full groupset.
COMPACT FRAME GEOMETRY AND PREMIUM COMPACT HANDLEBARS FOR ADDED COMFORT: A streamlined package with greater power and comfort. Every component of the Forcella is engineered for optimal comfort and efficiency, ensuring that you get the most out of every ride, whether it's 10 miles or 100.
PROFESSIONAL ASSEMBLY REQUIRED: We recommend that you get your new bike professionally built before riding to ensure optimal performance and to validate the warranty.
6- Neffice Fat Tire Mountain
Why did you choose Neffice mountain bikes over other brands? The Neffice was created with the goal of improving outdoor enthusiasts' riding experiences.
Our R&D team has spent years researching bicycle performance, durability, and precision engineering for each model. We are gradually growing our bicycle range; here you will find the next mountain bike with a distinctive style and dependable quality.
What Is A Fat Tire Bike?
A fatbike (also known as a fat bike, fat tire, fat-tire bike, or snow bike) is an off-road bicycle with oversized tires that are typically 3.8 inches (97 mm) or larger and rims that are 2.16 inches (55 mm) or wider, designed for low ground pressure to allow riding on soft, unstable terrain such as snow, sand, bogs, and mud.
What We Like About Neffice Fat Tire Mountain
High-quality derailleur: A seven-speed rear derailleur makes climbing hills easier, while twist shifters make gear changes smooth and simple while riding.
Fat Tire 26*4.0″: Fat tire suit for all-terrain fat tires, high wear resistance, strong grip, non-slip, high recognition, comfortably ride in snow, beach, mud, dirt, or city roads.
(This thick-tired bike is ideal for mountain and wasteland riding, but it may also be used on the road, trail, city, beach, or snow.)
Soft Tail Design: The soft tail mountain bike's structure includes a specific shock-absorbing rear fork and front fork, as well as front and rear shock-absorbing features, resulting in a greater shock-absorbing effect.
Professional and stable disc brakes allow the rider to change speeds more readily and be more flexible when going downhill, ensuring riding safety.
85 percent pre-assembled, simple to put together.
Summary
Carbon bikes aren't "traps on two wheels" just because they're built in Asia. China, Taiwan, and Japan are home to the majority of the world's carbon processing firms, and they are also the most well-known.
Japanese companies Toho Tenax, Toray and Mitsubishi Rayon Industrial make up 70% of the world's production, and all three are headquartered in Japan.
All of these manufacturers must submit their bicycles to testing by the European Commission for Standardization before they may sell them in Europe (CEN). An independent specialist laboratory, certified by CEN, conducts destructive testing to issue warranty certifications for the frame and other components.
The quality system, design method, material, and other crucial components of established brand bicycles are all completely transparent.