Cycling Gloves: Gloves are essential for minimizing hand numbness, providing crash protection, and just making riding more enjoyable. If you have them, you will find you can ride for longer distances in more comfort. They also improve your grip and absorb sweat. (Sweat-absorbing terry cloth is built into the thumb and index finger areas). Gloves are also good for cleaning off glass shards or tar chips from the wheel.
The price of gloves can be anywhere from $15 to $40. Winter bicycle gloves with insulant and windshield can cost over $50. Troy Lee Design, Fox, SixSixOne, Pearl Izumi, and Louis Garneau are among the top bike glove manufacturers.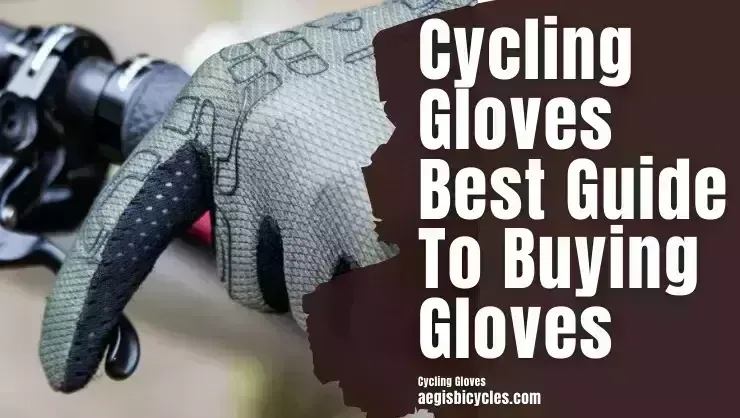 Fingers
For sure, you will choose between half-finger and full-finger gloves. For cross-country tours and everyday riding, it's better to have half-finger gloves. They allow your hands to breathe deeper. For extreme cycling, the optimal variant is to have full-finger gloves, which give good protection for the whole hand with fingers. If you need minimal, yet full-finger hand protection, Troy Lee Designs XC Gloves are a great choice.
The most common type of glove is fingerless, but experienced bikers prefer full-finger lightweight, flexible, and sweat-free gloves.High-quality full-finger gloves are well-vented and don't even cause discomfort in the hot weather.
These gloves are ideal for the summer because they are well ventilated.They're really comfy and pretty attractive. They are quite strong and ideal for quickly breaking!
Personally, I would advise buying full-finger gloves. They are much more practical. In the cold weather, your fingertips do not freeze from the brake bars. Your hands are better protected from small branches and bushes, and occasional slips and falls. They look better as well.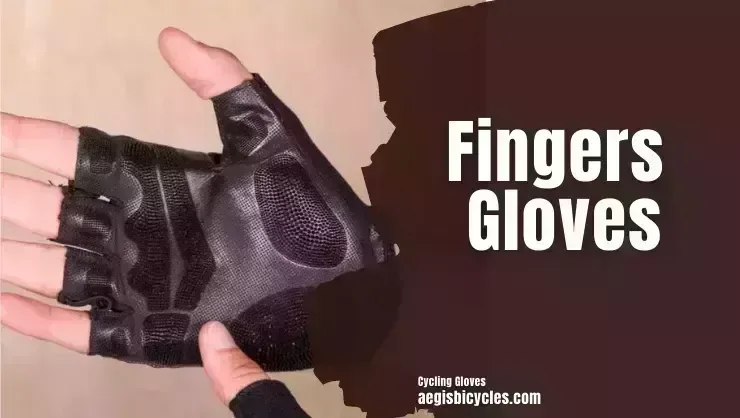 To gel or not to gel?
Two nerves run up through your palms. Bike vibrations can damage them. Ulnar neuropathy (carpal tunnel syndrome) can happen. If you need maximum protection for your hands from vibration and friction, try gloves with gel inserts.
Gel pads on the palms really absorb shock without losing grip. A lot of riders prefer the Cannondale Gel Tactic Gloves for their fit and comfort.
Types of cycling gloves
There are many different types of cycling gloves available on the market, each designed for a specific purpose. Here are some of the most popular types of gloves:
Road cycling gloves: These gloves are designed for road cyclists and provide good grip and comfort while riding. They usually have a padded palm and fingers to reduce vibration and improve comfort.
Mountain biking gloves: These gloves are designed for mountain bikers and provide good grip and protection while riding. They usually have a padded palm and fingers to reduce vibration and improve comfort, as well as extra padding on the back of the hand for protection from branches and other debris.
Commuter gloves: These gloves are designed for commuters and provide good grip and protection while riding in urban environments. They usually have a padded palm and fingers to reduce vibration and improve comfort, as well as extra padding on the back of the hand for protection from bumps and scrapes.
BMX gloves: These gloves are designed for BMX riders and provide good grip and protection while riding. They usually have a padded palm and fingers to reduce vibration and improve comfort, as well as extra padding on the back of the hand for protection from bumps and scrapes.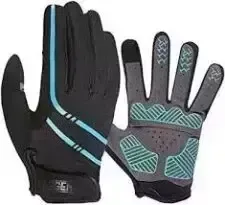 1- Full-finger bike gloves
For the rider looking for minimal protection and maximum flexibility, If you want light weight, better grip, great steering feedback and light protection, those kinds of gloves are the only choice. designed to be an all-day riding glove. Perfect for warm weather, not too hot in the summer.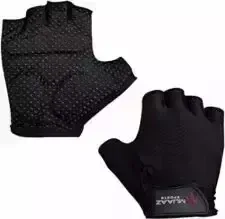 2- Half-finger bike gloves
Half-finger and 3/4 index with full thumb gloves—that kind works really well during extended hot summer rides. The shortcuts are cool, partly because of the short fingers and partly because any part of the back that is not covered by the plastic breathes very well.
3- Bike gloves for downhill and freeride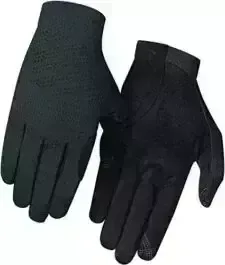 Whether you are bashing gates on a dual slalom course, dodging rocks on the downhill circuit, or "just riding along" on aggressive cross-country rides, gloves offer serious protection. Many downhill cycling gloves also have carbon fiber knuckles and forefingers for added protection.
We included some moto gloves. They're often cheaper and very durable, but the fit is usually less precise. We didn't find that to be a big problem, though.
4- Bike gloves with extra padding
Long distance riding and trials are ideal.Anyone who feels numbness in their hands while or after riding needs these gloves. I'd recommend gel-padded gloves specifically for carpal tunnel sufferers to help relieve pressure points and increase blood flow.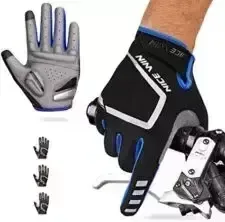 5- Bike gloves for dirtjumping and BMX
Designed for BMX and dirt-jumping more than MTB, We've included the most popular models among dirt jumpers and BMX riders. Although they do the job nicely on long mountain bike rides.
medium-full finger protection, great durability, no more padding than necessary, and all the features needed. They're cool in the summer and warm enough for autumn riding.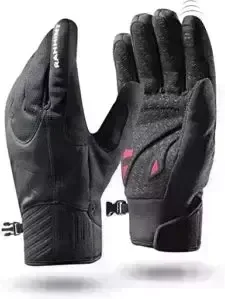 6- Bike gloves for winter cycling
Three-finger gloves and bike pogies are both the warmest solutions in seriously cold conditions.
Three-fingered gloves: Two fingers in each segment and your thumb in the other. The idea behind three fingers is that each finger has a mate to keep it warm, and there is a less exposed surface. Your thumb must fend for itself.
Bike pogies: are oversized mittens that fit over the handlebars. Perfect for temps below freezing. They let you ride barehanded when you'd normally wear gloves, and they let you wear gloves when you'd need heavy mittens or gloves. They attach to the handlebar, covering the brake and shift levers, which means you can operate these in comfort. Bikers report that Pogies are the warmest solution they have found.
In the winter, a lot of bikers wear gloves intended for other kinds of winter sports. But bike winter gloves have their own specific features which are not taken into consideration in other activities. Ski gloves are particularly good for temperatures below freezing.
7- Bike glove sizing guide
Find out your glove size. Follow the guidelines below to determine your correct glove size.
Keeping your hand flat, measure (in inches) the circumference around your palm at the widest point below your knuckles, excluding your thumb. You should use your dominant hand.
Next, measure from the tip of the middle finger to the base of the hand.
Use the largest of these two measurements for the correct size glove.
Use the chart below to convert to glove sizing.
If you're between sizes, go with the larger size.
Materials guide
Most of the gloves' working surfaces are made of leather or synthetic leather, which is sewn with an upper part made of Spandex, Lycra, or Coolmax. These materials draw moisture off very well, especially the last one. This is the distinction between leather and synthetic leather.
CoolMax dries up faster than any other material. The material dries up completely in less than 30 minutes; cotton will only become half-dried during this time.
Pittards is the most common type of leather, and it is well-known for its durability and softness.Pittards have a unique surface structure: special grooves support the withdrawal of moisture. Gloves made of such kinds of leather won't slide about the handlebars even in very wet weather. Clarino is another popular material that is used on working surfaces. It is very durable and the nonslip material is made on the basis of polyethylene foam.
A lot of gloves have terry cloth on the back and sometimes on the thumb. Their job is to absorb sweat if somebody wipes their faces with the gloves. There is usually either a broad elastic or a fastener like Velcro (sticking cloth) which fixes the glove on the hand.
10 Cycling glove suggestions
Don't only rely on your gloves. For hand protection, change the grip of the handlebar every fifteen to twenty minutes. Handlebars with bar-ends are optimal for this. You can also set handholds at either end that allow varying hand positions on the handlebars, just like bar-ends.
Every 30 minutes, take a handoff from the handlebar, drop and shake to relax the muscles and speed up the blood flow.
Check if your seat position is correct and too much weight doesn't fall on your hands.
Blisters on the hands are a fact that the gloves don't suit you. Try another model.
The simplest way to take your gloves off is to turn them inside out.
Wearing gloves, it is quicker and safer to look for something that pierced a tire. The glove will touch it, and you'll feel it.
Wash your gloves more often because they get dirty quickly when you wipe your face.
Have your hands frozen? Stop and make some circular motions to speed up the blood flow or warm them up under your armpits.
Remember, when you're riding, your hand size will increase slightly.
If you're between sizes, go with the larger size.
Summary
Finally, when buying cycling gloves, it is important to keep in mind the type of cycling you do. If you are a mountain biker, you will need different gloves than someone who rides on the road. The best way to find out what type of gloves you need is to ask a cycling expert at your local bike shop. They will be able to help you.