Top Electric Bike Under: Although the idea of electric bikes (e-bikes) has been around for a while, they have only started to experience a surge in popularity in the past few years.
Modern e-bikes now feature advanced technology, small, lightweight batteries and they're also more affordable.
If you've been looking to purchase an affordable e-bike, we've done the hard work for you. We've researched and compiled a list of the best electric bikes under $1000.
Top 5 Electric Bikes Under $1000 Reviewed
1. FIIDO Folding Electric Bicycle
Main Features
Construction: aluminium alloy frame
Load capacity: 264.5 lbs.
Maximum speed: 16 mph (25 km/h)
Motor: 350W
The Fiido Folding Electric Bike prides itself on having state-of-the-art technology in the cycling industry.
It relies on a high-capacity 36V 7.8 Ampere-hour (AH) lithium-ion battery and a 250-watt brushless motor. Together, these two components boost climbing performance and overall cycling capability. You can expect the electric bike to reach a maximum speed of 16 miles per hour. Even better, you can comfortably ride on this bike for a distance of up to 50 km.
This folding bike is equipped with 16-inch rubber tires for rigidity. These are filled with air to provide a reliable performance.
Its maximum load capacity is 264.5 lbs. which is pretty impressive for an electric bicycle. But what we like most about Fiido electric bike is its lightweight design. Factor in its foldability and you have a bike that's very easy to store in the trunk of your car.
Also worth pointing out is that the electric bike has three cycling modes: electric-only, pedal-assisted and the combo mode. Plus, it comes with a USB panel that makes it convenient to charge on the go.
Pros
Has an adjustable saddle
Features IP54 waterproof build
Comes with front and rear brakes
Equipped with a long-lasting battery
Provides three cycling modes
Cons
Only available in gray or white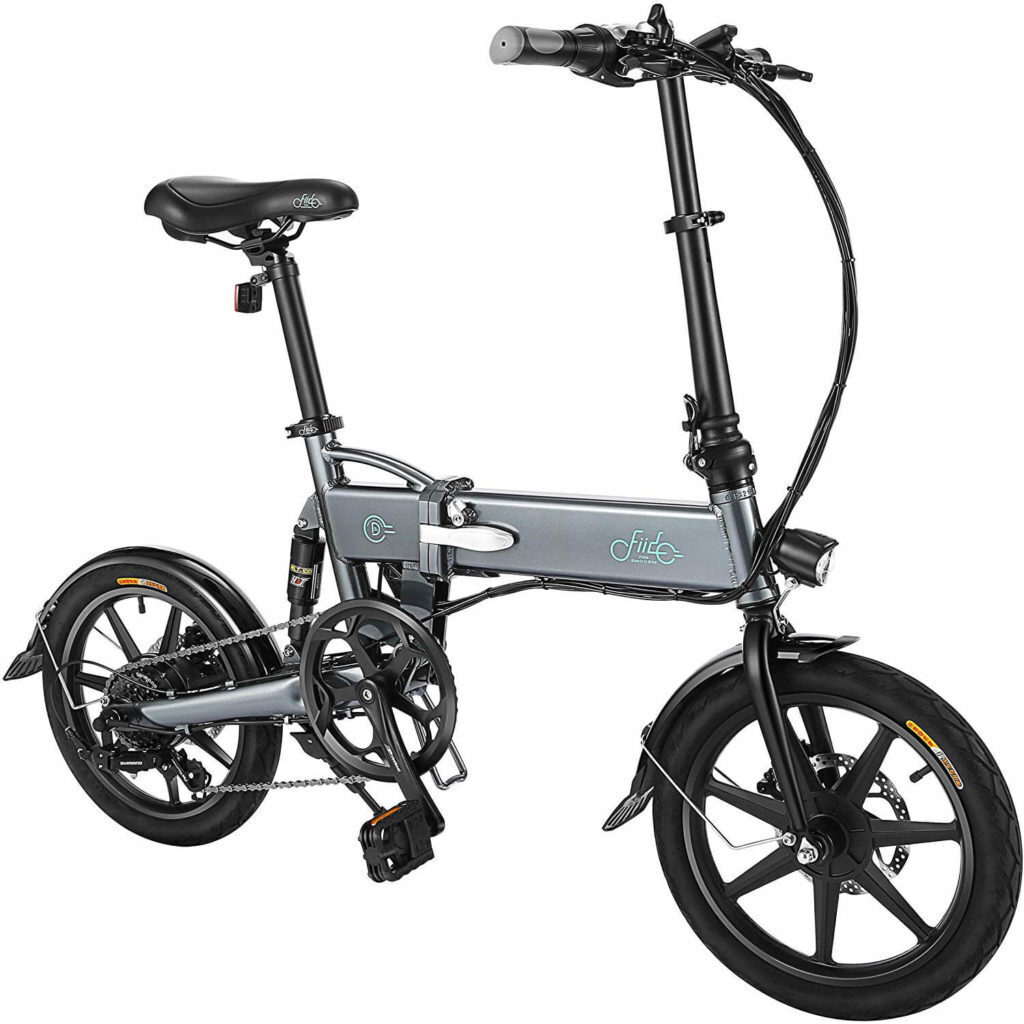 2. ANCHEER 2019 Folding E-Bike
Main Features
Construction: aluminum alloy
Load capacity: 265 lbs.
Maximum speed: 16 mph (25km/h)
Motor: 350 watts
Have you been searching for a premium quality bike that doesn't cost a fortune? Well, you should consider the Ancheer 2019 Folding Bike that delivers on all fonts.
Not only is it affordable and reliable but it's also stylish. Available in a combination of black and white colors, the Ancheer delivers a touch of elegance and sophistication.
Looks aside, another reason why you should invest in this e-bike is its longevity. Its frame is made exclusively of aluminum alloy, which is both lightweight and durable.
To provide optimal performance, the bike is equipped with a 36V 6Ah battery and a 350-watt motor. With these features, you can achieve a top maximum speed of 20 to 25km per hour.
Furthermore, Ancheer e-bike is not difficult to assemble. It arrives 85% assembled, meaning you can hit the road minutes after you get your bike. Better yet, you have the option of asking for assistance to assemble the remaining bit during the time of purchase.
And once you purchase the bike, you'll get one-year service for the battery, electric motor and other components.
Pros
Equipped with a removable battery
Has a chic design
Sports a reliable shifting system and brakes
Comes with accessories to enhance ride
Cons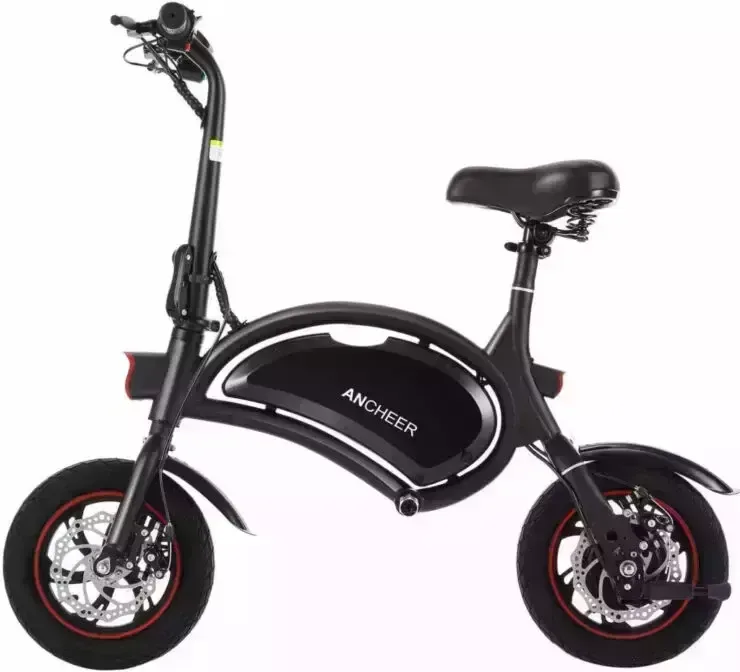 3. Aceshin Electric Mountain Bike
Main Features
Construction: aluminum alloy
Load capacity: 330 lbs.
Maximum speed: 16 mph (25km/h)
Motor: 250 watts
The Aceshin is a well thought out electric mountain bike that's also affordable. It comprises of an aluminum alloy frame and a front fork that's made of high-strength carbon steel. The integration of carbon steel fork provides maximum absorption while the aluminum build makes for a lightweight and durable bike.
This electric bike is powered by a 36V 8Ah lithium-ion battery. It also has three cycling modes: normal, the e-bike and assisted riding modes. In e-bike mode, the battery supports 16 miles on a single charge and 31 miles in assisted riding mode. Best part is, the battery has a fast charging mechanism; it takes just 4 to 6 hours to fully charge it.
Another key highlight of Aceshin e-bike is its ergonomic design. The handlebar is well-designed to provide a good grip while the saddle can be adjusted to provide a great fit. The 26-inch tires are resistant to wear and slippage, which further enhances the bike's durability.
The electric bicycle comes with front and rear disc brakes and a 21-speed transmission system. This way, you can set a speed that you're comfortable with.
Pros
Includes a pedal-assist cycling mode
Equipped with a high-speed motor
Fast charging battery
Cons
Quality of the pedals can be improved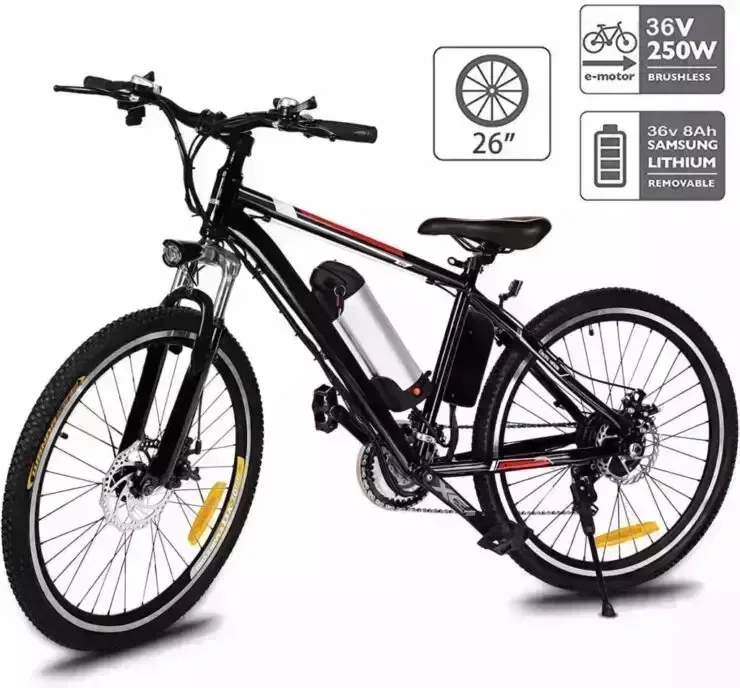 4. ECOTRIC Fat Tire Electric Bike
Main Features
Construction: alloy
Load capacity: 260 lbs
Maximum speed: 20 mph (32km/h)
Motor: 500 watts
If you like cycling at top speed, one of the best e-bikes you can invest in is the Ecotric Fat Tire Bike.
Equipped with 24-inch anti-skidding tires, this bicycle can help you achieve a maximum speed of 20 miles per hour. But what truly contributes to this ultra-fast speed is the brushless rear motor with 500 watts.
In addition to its capability to go fast, there are other things you'll love about this bike. For instance, it's equipped with both pedal-assist and walk-assist modes. The pedal assist involves provision of power only when you're pedaling. If you were used to cycling a traditional bicycle, you'll find the pedal-assist to be an excellent mechanism to start you off.
Though the Ecotric Electric Bike is only available in two colors- blue and orange- it's ergonomically-designed to provide the rider with maximum comfort. The handlebar offers a comfortable and secure grip and the seat is adjustable.
Another feature you'll love about this electric bike is that it doesn't take that long to assemble. Since it arrives 90% assembled, there are just a couple of components that you'll need to piece together then you can hit the road and enjoy your first ride.
Pros
Has a quiet but powerful motor
Reaches up to 20 mph
Easy assembly
Cons
Limited color options
Lacks fenders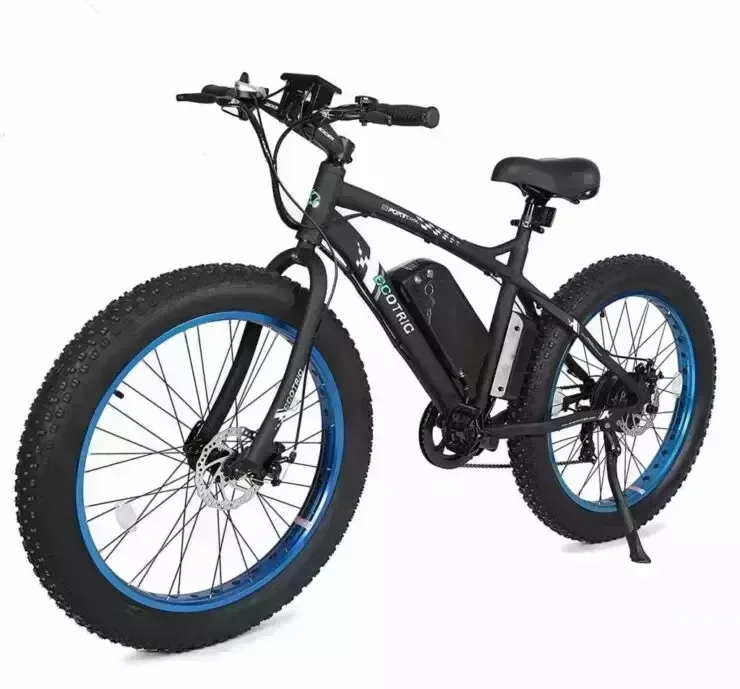 5. NCM Prague Electric Mountain Bike
Main Features
Construction: aluminium alloy
Load capacity: 275 lbs.
Maximum speed: 20 mph (32 km/h)
Motor: 350 watts
It's difficult to find an electric mountain bike that's also cost-effective. But NCM has defied the odds and proven that you can have the best of both worlds – a quality mountain e-bike with a price that's hard to match.
Right off the bat, you can tell that Prague is a well-built bike. It has a sturdy aluminum alloy frame, which is one of the go-to materials thanks to its lightweight and durability. However, once you factor in the battery and all the other parts, the e-bike is not the lightest of the bunch and it weighs 55 lbs.
This electric bike is described as a hardtail, meaning it won't give you a very refined shock absorption as is the case with full-suspension mountain bikes. Still, it offers a fun and comfortable ride.
It's also equipped with a 36V/13 Ah battery, which provides a reasonable mileage of 20 miles on a single charge. As for charging, you can charge while the battery is still on the frame or detach it and take it home for charging.
Also important to note is the 350-watt motor that the e-bike comes with. This is quite powerful allowing you to cycle uphill with very little effort. Plus, it's fitted with Tektro mechanical disc brakes, which are among the best in the cycling world.
Pros
Excellent weight limit
High-speed
Offers smooth and comfortable rides
Equipped with quality components like Tektro disc brakes
Cons
Not suited for rough terrain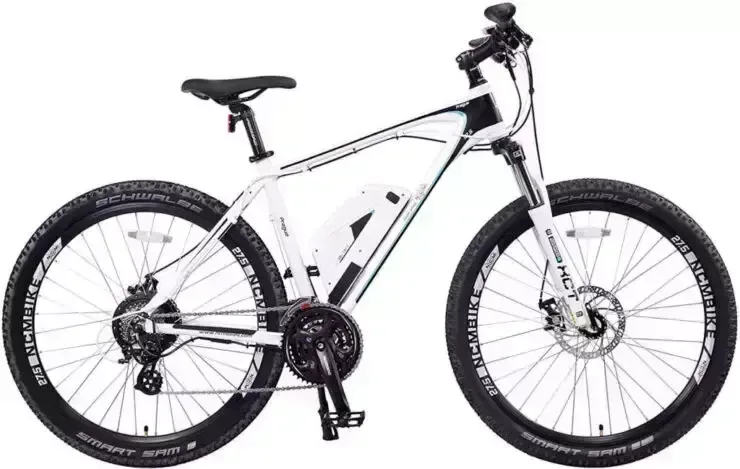 Essential Features to Consider When Buying an Electric Bike
Electric bikes come in a variety of designs, shapes, motor systems and battery configurations. Due to this, a lot of buyers have a difficult time figuring out which specifications they should look for. Let's take a closer look:
Types of Electric Bike
Class 1: Pedal Assist
This is the most common electric bike that you'll find on the market. It requires a cyclist to pedal the bike as they would with a traditional model. However, it's equipped with a motor for assistance. The motor increases power sent to the rear wheel.
Thanks to the addition of the motor, pedalling takes minimal effort even when you're cycling in high gears. This enables you to reach top speed and climb over steep hills with incredible ease.
The majority of pedal assist electric bikes come with a variety of settings, allowing you to control the amount of assistance you receive. However, for an electric bike to be classified in the class 1 category, the highest speed it can be ridden at is 20 miles per hour (32 kilometers per hour).
Class 2: Throttle
This is fairly similar to a motorcycle or scooter in that the e-bike moves forward without any extra pedalling from the cyclist. The majority are capable of providing a variable amount of power based on how far the throttle is pushed.
However, throttle-operated e-bikes aren't as common as their pedal-assist counterparts. In fact, some countries have enforced rules that completely prohibit their use.
Class 3: Speed Pedelec
The design of this electric bike is not a far cry from that of a standard pedelec. But as implied in its title, this one enables you to cycle at higher speeds of up to 28 miles per hour (45 kilometers per hour). In most places, a class 3 electric bike is classified as a motor vehicle. As such, riders should possess a license to be allowed to ride them.
Hub Motors vs. Mid-Drive
The heart of any electric bike is its motor. This is usually positioned in one of two places: the middle section of the frame or one of the hubs. The location of the drivetrain determines just how the bike will function and what it can do.
Front Hub Motor
This is the simplest of the three designs, and subsequently, it's the most limited in its functioning. Also important to note is that front hub motors are usually used with throttle-operated e-bikes. The reason for this is that it's challenging to provide additional assistance to the cyclist when the motor is not a part of the drive unit.
That is not to mean that there aren't a few exceptions. With e-bikes like the Brompton folding electric bike, which is a pedal assist, it employs a front hub motor.
One drawback of e-bikes with front hub motors is that they have poor traction. This happens because a majority of the bike's weight is over the rear wheel. Navigating around corners is particularly challenging because the drivetrain is in the front wheel.
Due to these disadvantages, a front hub motor is not the most common design among e-bike manufacturers. Often, it's only incorporated in low-cost conversion kits.
Rear Hub Motor
The beauty of a rear hub motor is that it can be used with either a throttle or pedelec, with a majority of systems offering both with the click of a switch. Better yet, they can be incorporated in non-folding bike frames, and this makes them one of the most popular options for electric conversions.
Another attribute of rear hub motors is that they're not expensive to produce. And oftentimes, they remain unnoticed, as they're mistaken for an oversized conventional bike hub.
The only flipside of a rear hub motor is that it results in an unequal distribution of weight as the motor is positioned in the rear wheel. This can affect handling and cause a rider to lose their balance.
Mid-Drive Motor
With this type of electric bike, the motor is positioned in the center of the frame, and it attaches to the bottom brackets and cranks. The only way to activate the motor is by pedaling, meaning a bike with this type of drivetrain will always be a pedelec.
There are several benefits of having the motor positioned in the frame's middle section as opposed to on the hubs. For starters, this drivetrain delivers more torque than a hub motor.
Secondly, the fact that it's centrally positioned helps in distributing weight more evenly on the bike.
Also, it's much easier to incorporate a torque sensor, which is used to measure the amount of input from the cyclist. This sensor makes it possible for the level of assistance to be automatically adjusted to correspond to the intensity of the rider's pedalling. This results in a smoother and more fluid cycling experience.
Batteries
Each electric bicycle needs a source of power, and this is usually provided by a rechargeable battery. A majority of e-bikes are equipped with lithium-ion batteries and these comprise of multiple battery cells located inside a larger case.
But with advancement in technology, we've noticed that modern batteries are lighter, smaller and more powerful. The only problem with relying on batteries as a source of power for e-bikes is that they add a significant amount of weight.
As such, their size and placement are crucial factors to consider when assessing an electric bike's structure. Usually, manufacturers incorporate batteries that are as light as possible while still ensuring that they can perform their roles adequately. Here are some common battery configurations:
Rack Mount Battery
As the name implies, this type of battery is attached to a rack found on the rear of the bike. The racks are structured like conventional cargo carriers, meaning they can double up as extra storage spaces.
Often, the battery is positioned directly above the rear wheel- a design that helps to take the weight a long distance away from the ground. Due to this, riders may have problems handling and cycling the bike. On the plus side, this is a versatile mounting system and it makes it possible to mount the battery regardless of the frame's design.
Down Tube Battery
The most popular place for mounting a battery is on the down tube. The down tube is the frame tube that extends from the bike down to the crank section.
The benefit of mounting the battery in this area is that it puts the bike's weight low to the ground, making it easier to navigate and handle. It also makes wiring much easier in the case of a mid-drive system as the motor is positioned behind the battery.
Other Features to Consider
Lighting
Another feature you should look for in an e-bike is lighting. The lighting systems vary widely with higher-end models boasting more powerful lighting.
Racks
Often found on cargo e-bikes, racks are an essential component to have especially if you plan to carry heavy loads. Some electric bikes don't come with integrated racks, but they can be outfitted with separately-purchased racks.
Smartphone Integration
While this is not a feature that you'll find in all e-bikes, it's one that's nice to have. Essentially, it means that the bike connects wirelessly to your smartphone. With supporting apps, you'll have access to GPS, service records, screen capabilities and the ability to unlock your bike's integrated lock.
Wrap Up
The electric bikes in our review are perfect for an array of occasions. Whether you're looking for a bike for recreational cycling, commuting or competitions, these e-bikes are excellent choices.
Some can go at top speeds of 20 miles per hour and they're equipped with quality components to enhance their performance. Best part is, they all cost less than $1000 so you don't have to worry about breaking your bank when shopping for an e-bike.