Urban Biking Activity: If you live in the city and often use your bike only to go for work or school, you probably think that choosing bike brands is not a really big deal. However, since you are most likely to use your bike every day or at least very often, good performances and quality are very important. Urban bikes are probably not as expensive as touring, mountain or racing bikes, but they are still equipped with state of the art components that make them tough and can accompany many of your activities in the city for a really long time.
In fact, if you buy a good urban bike, you may as well use it more often than your car!
Why Specific Urban Bike Brands?
Although biking in urban areas is not as hard as biking in the mountain, forest or off road areas, it also presents a different kind of challenges. Unless you live in a quiet little town with really smooth asphalt road, you will be likely to face day to day obstacles such as cars and motorcycles. They require you to have really good control on the headset and good braking system, to help you minimize risks of collision. Also, if you use your bikes to get groceries, deliver packages or any activities that require a lot of load bearings, your bike must have the strong frame, good balance, and stability in headset control.
Finally, your bike must be strong enough, because you use it more often than racing bikes. And since commuting with bikes has been starting to get famous in big cities, the urban bike brands must present good combination between looks and practicality (including light weight). Plus, it has to have low maintenance requirements, especially if you are very busy and not an athlete who spend almost 24 hours thinking only about biking.
Best Urban Bike Brands
Here are some great brands to get you started in busy and challenging urban biking.
Trek Soho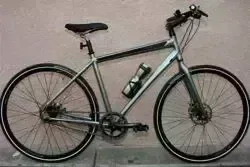 This bike is designed for urban bikers who need a bicycle mostly for speed and look, for example, office commuters. While the bike is not intended to bear large loads, it surely looks stylish, attracting and agile enough to bring you through traffics. First manufactured in 2009, Trek Soho is quickly becoming famous among office commuters who only need to bring their bags and coffee mug (yes, there is a thermal coffee mug and mug holder on this bike). The belt is smooth, quiet and does not need to be greased. It has great braking system with Shimano IM50 Rollers, and parking is easier with its top bar rubber strips. Plus, the finishing is very trendy with the glossy grey exterior.
Torker Cargo T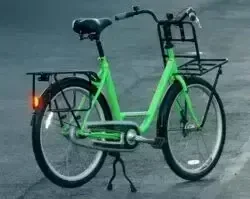 Unlike Trek Soho and other chic urban bike brands, Torker makes bikes that can bear the almost unreasonable weight of loads. Torker Cargo T is designed for hard workers who must haul a lot of weights or heavy cargo with their bikes every day. Therefore, you will see that this bike have the very strong steel frame, massive frontal part and headset, and pre installed metal rack on the rear part. The kickstand has the dual model and very sturdy to help you with loading. The chain guard is fully enclosed to avoid any accidents because something stuck. While it only has 3-speed gearings and drums brake leaves as the braking mechanism, the bike has good bargain price and requires almost no complicated maintenance.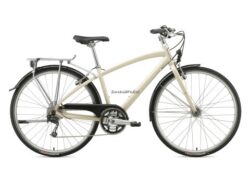 Specialized Vienna Deluxe
Are there any bike brands that can really make you feel good about parking your car in the garage forever? Specialized Vienna Deluxe is one of them. While it has a light weight yet strong frame and classic line that reminds of Bianchi Milano, it also has load rack and headlamp powered by the dynamo. The chain guard has the unique style to match the elegance of this urban bike, and the entire design seems so fluid. However, the price is quite expensive for a bike that does not have disc brakes.
Xtracycle Radish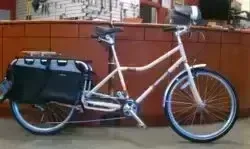 This is considered as the ultimate urban bike if your definition of the urban bike is a bike that allows you to bring everything on it; groceries, a passenger, your office bag, packages, flower pot, heavy load, even a kayak or your puppy. This is a long bike with steel frame, rear rack, strong alloy wheels, and 203 mm rear disk brake size. The entire look is sturdy and tough, and you will not confuse it with those chic and slim urban bikes for office commuters. If this bike is a car, it would be an SUV or small truck.
What do you think?
From trendy and glossy commuter bikes to heavy duty cargo bikes with massive appearance, these urban bike brands clearly have everything you need to navigate through busy city streets.