Best Mountain Bikes: In this article we will show you the best mountain bikes for 2022, including a selection of different types of mountain bikes to enjoy climbing and descending the mountain as you had never imagined!
Before going into details of our Top 5 Best Mountain Bikes, let's review some of the main categories of mountain bikes (MTB) available on the market today.
MTB All-Mountain: it is the most versatile practice of mountain biking, it is about traveling mountain paths, but without a precise objective. It is better to opt for a model of light integral suspension with an angle of rotation of between 120-150 mm.
Cross Country (XC): It is one of the most popular practices and the only one recognized as an Olympic discipline. Normally it is practised in the mountain, and it is about travelling certain terrains or paths of different inclinations and surfaces, even on mud or stone. For this practice, a semi-rigid (single suspension) bike with a not very wide angle of rotation is recommended.
Downhill (DH): as the name implies, it is specifically exclusive for time trial descents. It is necessary to be an MTB with integral suspension with a wide turning angle, minimum 150 mm, and an effective brake system.
Enduro: located between the XC and the DH, you must ride on a very uneven path, mainly constituted by descents, in the shortest possible time. It is necessary to have a light bike, manoeuvrable and equipped with an excellent suspension system.
Before buying, it is essential to know about the whole series of parameters for your future best mountain bike:
Frame type: there are two types. The semi-rigid, single suspension on the front fork, and integral suspension (or double suspension). The first is advantageous for ascents and the second for descents. For an intermediate use, the most indicated is usually the integral suspension, as long as it is light.
The material: they are usually made of aluminium (cheaper) or carbon (lighter, stiffer and stronger).
The size of the bicycle: it is important to choose a bike adapted to your morphology to avoid any discomfort. It is important to consult the size charts, as they may be different from one brand to another.
The size of the wheels: A few years ago, the tires of 26″ dictated the norm, but little by little the ones of 29″ have been imposed, which offer better comfort, although they are heavier and the control decreases. Even so, the tires of 27.5" are becoming more and more popular.
The brakes: There are three types of brakes on the market, V-Brake, mechanical disc brakes and hydraulic. The V-Brake is only valid for occasional and risk-free use. Hydraulic brakes are more reliable, but also more expensive. Mechanical brakes, on the other hand, represent a good compromise.
The type of fork: the angle of rotation must be taken into account, that is, the maximum vertical oscillation amplitude of the chainstay with respect to the fork. It is expressed in millimetres. The bigger, the more comfortable the descends will be. An angle of rotation between 120-150 mm is ideal for a versatile practice, if you prefer the descents, at least 150 mm. For Cross-Country, 120 mm maximum.
The transmission: the triple chainring transmission offers 8 to 10 speeds and is suitable for beginners. The double chainring transmission offers between 10-11 speeds and allows greater comfort, since it needs less speed changes, but requires a better physical condition. Finally, the single chainring transmission, lighter and easier to handle, perfect for beginners.
Santa Cruz 5010 Carbon CC 27.5+ X01 Eagle Reserve
The Californian bike brand, Santa Cruz, presents this 2022 an all-terrain MTB that we can include in our selection of best mountain bikes for this season. We can classify it as an All-mountain & Trail bike, and it is designed to ride on the most technical trails. It has 130mm of VPP which means guaranteed fun while climbing the most difficult rocky hills.
The frame is made of Carbon CC to give more lightness to the bike, and with a lifetime warranty for breakage. All cable routing is inside the bike, resulting in a more modern design.
We also have to say that the seat tube has more angle of inclination, allowing a better pedaling while climbing.
The new 5010 has a 66.5-degree head tube angle, more aggressive than before, and the longer top tube welcomes the use of shorter stems for more precise handling and greater confidence on rapid descents.
Such a good frame needs the necessary accessories according to such quality. To do this, it incorporates SRAM's X01 group, Reserve 37 27.5-inch carbon rims, and a FOX Performance Elite front suspension.
Pros: Carbon CC frame saves weight without compromising stiffness
Flip-chip switches head tube angles
Plus 2.6-inch tires
X01 Eagle drivetrain offers a wide gear range
Cons: Suspension during high-speed hits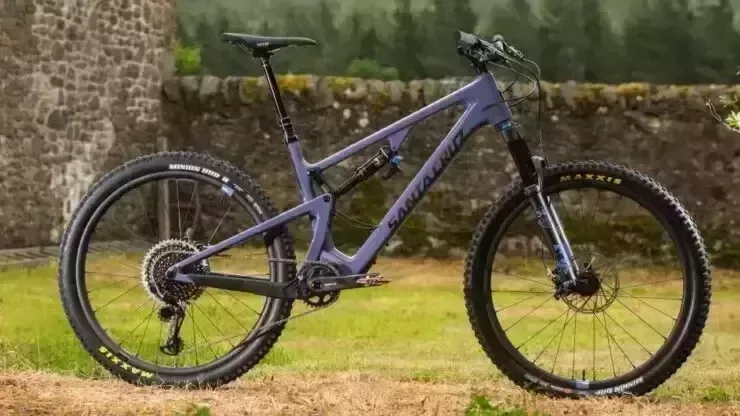 Alchemy Arktos 27.5 GX Eagle
Another bike that could not be missing in our selection of best mountain bikes for 2022 is the Alchemy Arktos 27.5 GX Eagle. This MTB can be classified within the All-Mountain & Trail due to its versatility. A 27.5-inch bike and made of a carbon frame with full-suspension. A monster designed to go up and down the mountain very easily.
The Arktos is a one-of-a-kind complete suspension bike designed to climb and descend with the same aplomb. The Arktos features a patented double link platform called Sine Suspension. Sine is also designed to minimize chainstay growth to improve pedaling efficiency and keep the suspension active while braking. A suspension designed to absorb shocks and transform them into increased rear wheel traction. 152 mm of fully active suspension.
Finally, we have to say that this bike incorporates an SRAM excellent GX drivetrain, Shimano XT brakes, FOX Float Performance 36 suspension. A spectacular bike!
Pros: Artisanal carbon construction
6in of Sine suspension is optimized
An all-mountain bike that climbs and descends perfectly
Cons: A slightly long seat tube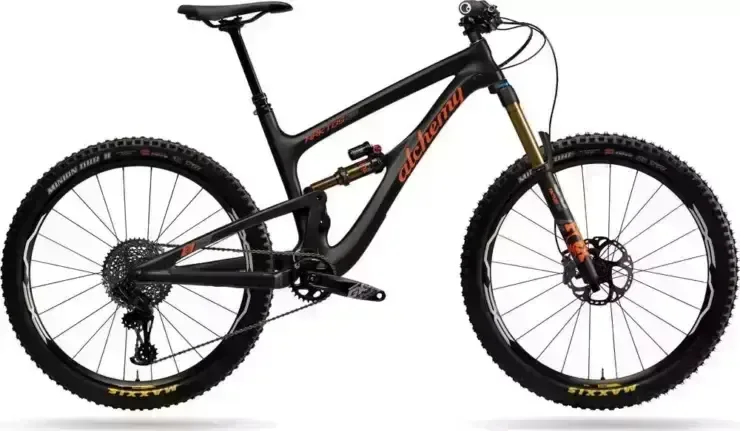 Ibis DV9
The Ibis DV9 is a rigid bike with a carbon frame and aluminum price. For this reason, it is a bike that could not be missing in our selection of the best mountain bikes for 2022. This Californian brand faced the challenge of making a mountain bike versatile enough for competition, with which you will enjoy roads and trails, on the long routes and, above all, that you didn't have to save a lot of money to decide on it.
The result is this Ibis DV9 with a carbon frame and certain modifications with respect to the previous rigid of the brand. And the range has increased to 24 mm, and the headtube angle goes from 71 degrees to 67.4 degrees, with the 120 mm Fox Rhythm fork, and 68.5 degrees with the 100 mm Fox Stepcast fork. DV represents "development" and that is what they wanted to reflect on this bike.
The Ibis DV9 has a very aggressive geometry and plenty of space so you can add the tire width you want, it is designed for 29 "tires with a width of up to 2.6". A magnificent bike if you are looking for a rigid mountain bike.
Pros: Perfect XC bike
Carbon fiber construction keeps weight low and stiffness high
Cons: Not as fun on rough trails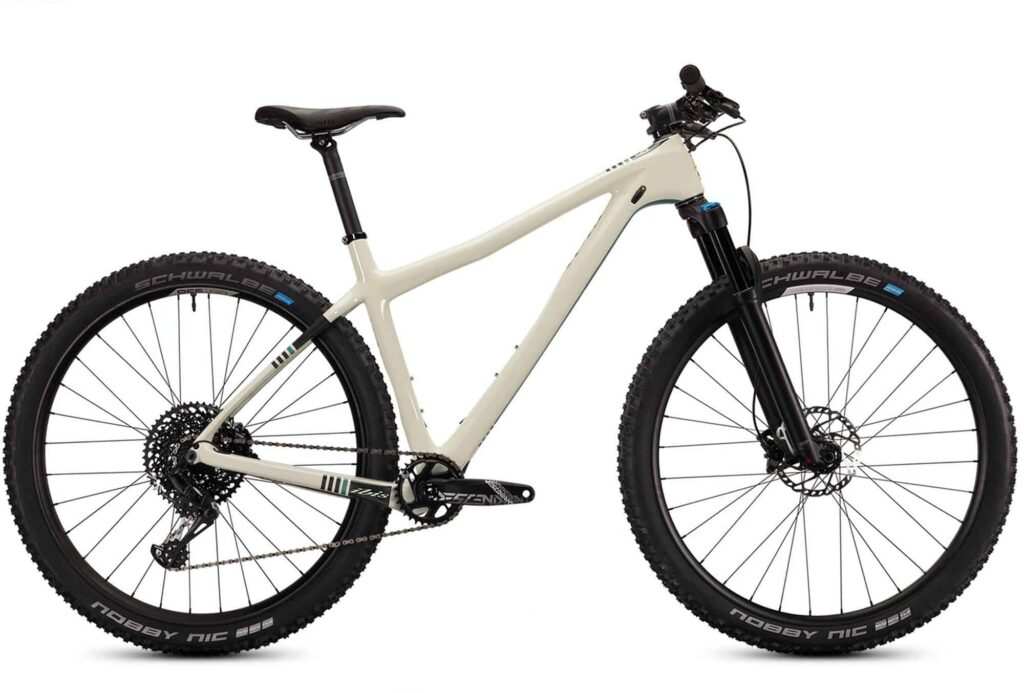 Juliana Furtado
Juliana bicycles is the Santa Cruz brand women's bike line. And that is why we must include in our selection of the best mountain bikes to Juliana Furtado. This is a very balanced All-Mountain & Trail bike, perfect for women. With 130 mm front and rear suspension, it is right in the middle of the medium travel category, which is the ideal point for a considerable number of cyclists and terrain.
In general, it has a modern geometry, including short chainstays a 66.5-degree headtube angle that helps give the bike precise handling. During the descent, it is maneuverable and responsive as you flow through corners or tackle technical terrain.
Pros: VPP suspension is great on climbs
2.6″ tires offer loads of traction
Impressive component specification
Flip Chip switches head tube angles
Cons: Uncomfortable saddle
Not the best for descents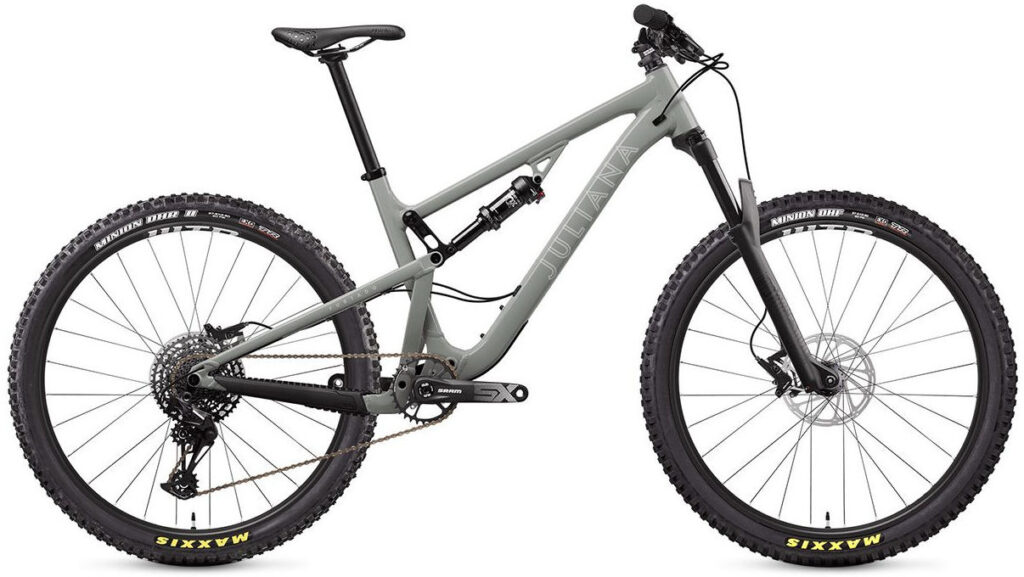 Santa Cruz V10 Carbon 29 X01
Finally, to finish our selection, we offer one of the lightest downhill bikes in the world (16 kg), the Santa Cruz V10. Made of carbon CC, the brand's highest range, this bike has won several world championship events. A bike in its seventh version, which can be found in 27.5 and 29 inches.
The rear suspension keeps the VPP system characteristic of the brand with a travel of 215 mm and includes the Flip Chip to slightly change the geometry and improve its behavior depending on the terrain and route. It also includes a Flip Chip in the pods to modify its length by 10 mm.
This bike is built for the descent and therefore incorporates the SRAM X01 DH 7-speed drivetrain and the RSC Code brakes. The best downhill mountain bike is equipped with FOX high-end suspensions, the Fox 49 Factory 40mm front wheel, and the Fox DHX2 in the frame.
Maxxis Assegal wheels to complete this monstrous bike.
Pros: 29-inch wheels in M, L, and XL sizes
Flip-chip to slightly change the chainstay
Cons: Nothing, well… the price.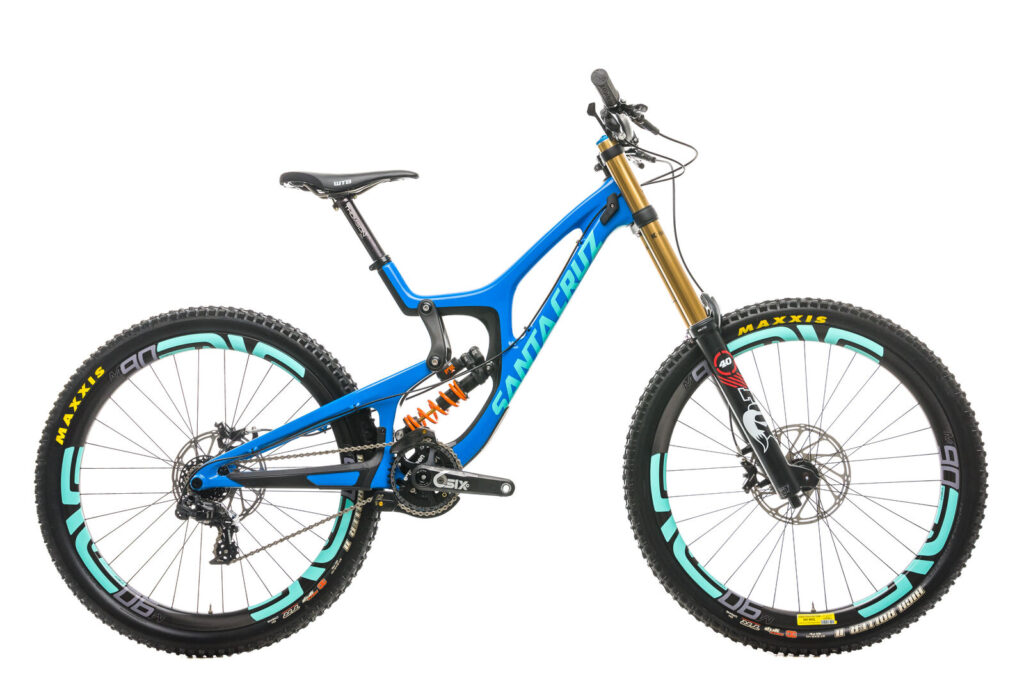 Conclusion
In this article, we have described five fabulous bikes and the reasons why we think they are the best mountain bikes on the market at the moment.
No doubt these are 5 bikes with which you can enjoy your journey through the mountains and practice the sport that you love the most.